Recover Outlook 2015 / 2016 Data
Now Outlook Mac Database Recovery Tool Supports Recovery of Mail data from Outlook Mac 2015 / Outlook Mac 2016 version as well and recovered data is completely compatible with Office 365 
For More details on Microsoft Outlook 2015/16 office 365 please  read here: Outlook 15 for Mac/Office 365 for Mac
If you have lost your Outlook Mac 2015 / 2016 Mail data due to corruption or for some reason it becomes non viewable, Outlook Mac Database Recovery Tool is your go to App and professional Geek to help you out on click of few buttons. It will allow you to recover the following: emails, calendars and contacts from Outlook Mac 2015/ Outlook 2016/ office 365 for Mac, if you still have access to Outlook Mac Mail database.
What can be done with Outlook Mac Database Recovery App? 
1. Recover Mails data from Outlook 2015/ 2016  / Office 365 for Mac
What our app does is read through the Copy of Outlook Mac Database which you have access to either via Time Machine backups or if the data is still accessible from your Documents Folder on Mac. As Outlook Mac Client is not recognising this backup, there is a possibility of corruption in the database, Outlook Mac Database Recovery Tool does a deep and through scan of data which can still be salvaged and without altering or making any changes to the original data. Outputs a importable copy of data in a format of your choice. Most preferred choice is PST file format. But we do offer a variety of choices to output the salvaged data explained in next point. 
2. Wide range of supported salvages output Formats if you choose to migrate to a different Mail Client and Quit using Microsoft Outlook for Mac
With Outlook Mac Database Recovery App you have options to output the salvaged mail data into different formats like Apple Mail Archive, MBOX, EML, Thunderbird Archive SBD file and PST, so if you are not planning on using Microsoft Outlook you have the freedom to import the salvage data to other email clients like Apple Mail or Thunderbird, Windows Outlook, Thunderbird or If you wish may just import it back into Outlook for Mac and continue using the same. 
3. Preserving your Email Data using Recovery process 
We take utmost pride that we take your data very seriously and ensure its preserved to its original state to the nearest possible point.
Now Moving on to Explaining Quick and Easy process to Recover Outlook Mac 2015 / Outlook Mac 2016/ Office Mac 365 Mail data 
First of all, we need to Download Outlook Mac Database Recovery Tool
Step 1- Launch Outlook Mac Database Recovery App and select Custom instead of Express mode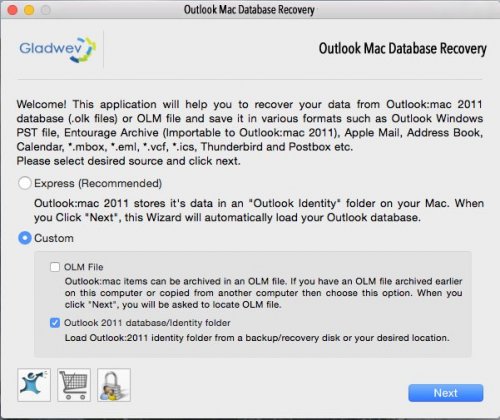 Step 2- Click on Browse button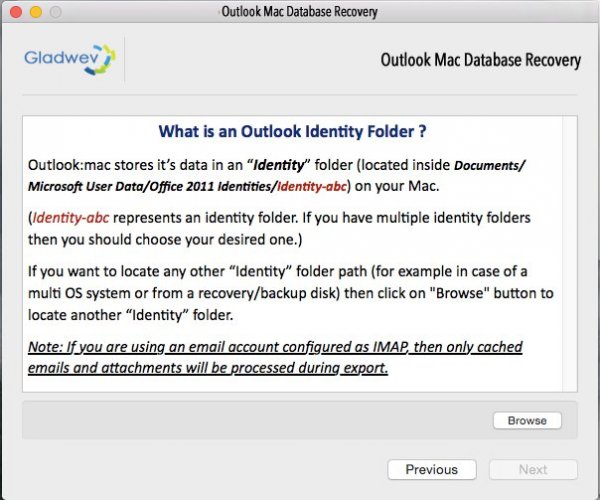 Step 3- Press command + shift + G then press Go.  This will direct you to your Outlook Mac (2015 / 2016/ Office 365) profile path which is  ~/Library/Group Containers/UBF8T346G9.Office/Outlook/Outlook 15 Profiles/Main Profile/ or copy paste the highlighted text  and press Go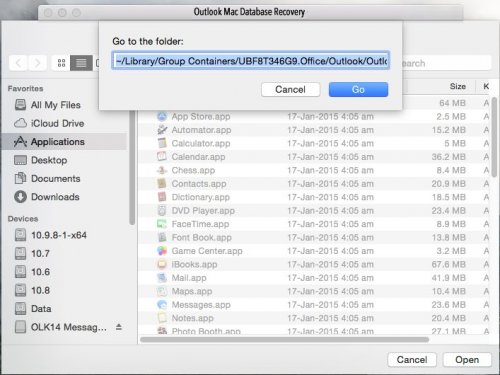 Step 4- Click Open, if Open button is not enabled then please restart your Mac once and kindly ensure Outlook for Mac is not running or launched in the Backgroud once you restart your Mac. Now try the same above step, Open button should normally get enabled after following the above work around.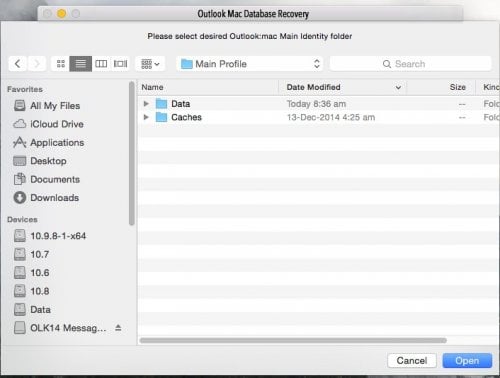 Step 5- Hit Next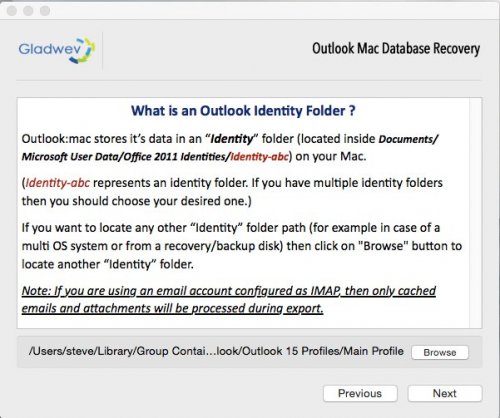 Step 6- Complete folder structure will be displayed, where you can select or deselect folder required by you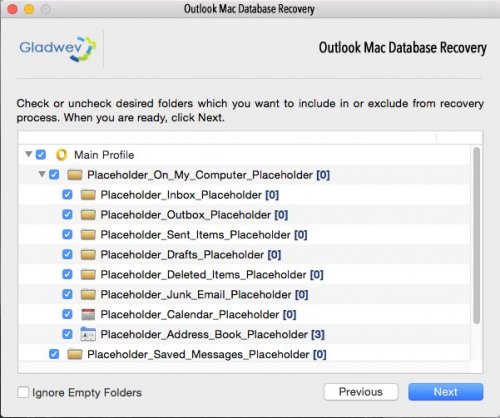 Step 7- On next Screen you can select the desired output format like Apple Mail, Thunderbird or PST format etc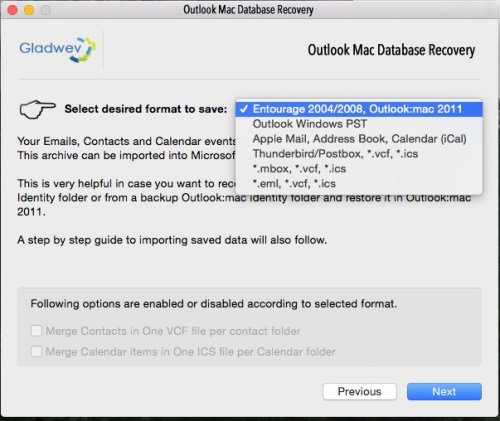 Step 8- On last screen you can create an output folder on your desktop with a desired and easy to remember name and save the output file.